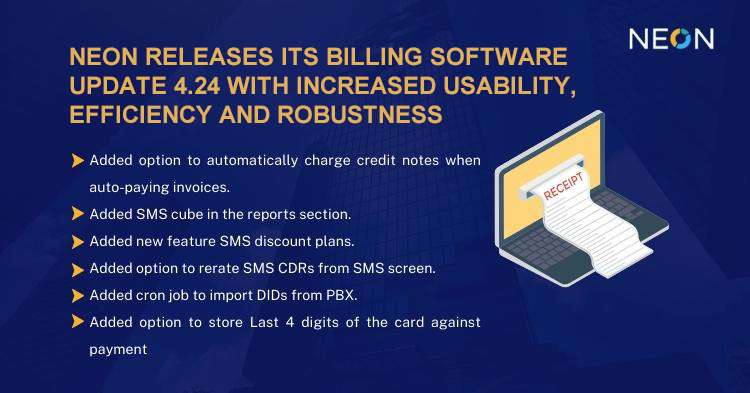 November 08, 2022 — NEON Billing Solutions' highly-skilled team of developers has added some incredible features that increase performance overall. This set of new functionalities upscales the end-user experience to another level.

These new features are entirely in your control, and you can use them depending on your preferences and needs. NEON makes your billing tasks more time-saving and less laborious with increased productivity. Helping you create a culture of Working Smarter Than Harder!
1. Charge Credit-Notes Automatically
With this new update, you can find an option to add or check any credit notes or pending amounts remaining with you while auto-generating a customer's next invoices. Consequently, credit note acts as an alternative solution to compensate the amount being charged high or low mistakenly.
2. Create and Customise SMS Reports
When visiting the report section, you will now find a new feature in the form of an SMS cube in the report section. This will help you design your customised sms report and add the report of SMS CDRs too.

It has an easy-to-use drag-and-drop feature which only requires seconds. It's the quickest way to make a custom SMS report by dragging the required fields with just a few clicks.
3. New SMS discount plans
The SMS discount plan feature will simplify your work to accomplish more. This section leads you to an easy navigation process of setting up and applying for discount plans. To avail of this option, you just need to go to your setting section and follow the below options according to your business needs:
i. Creating SMS Destination Group Set
You don't need extra time setting up your same SMS discount plans from multiple SMS Destination Groups. This feature will help you instantly create SMS destination groups and manage these SMS destinations or codes by simply adding and deleting options.
ii. Creating individual SMS Discount Plans
This feature will also very easily navigate you in creating an individual SMS discount plan. You will find easy-to-find and follow options, such as thresholds and discounts, which will take no time to calculate, create and share.
iii. Applying SMS Discount Plan
Now you will find applying all the created and saved discount plans easy by just going to your customer's account. Furthermore, you can also edit or look into additional options before clicking on the apply feature.

The editing option enables you to add and ensure up-to-date information. This SMS reports-creating feature makes your work easier and faster by allowing you to create and modify templates in just a few clicks quickly.
4. Cron Job to Import DIDs from PBX
Reduce the time of utilising and managing your billing tasks with a single click. As NEON imports DIDs and extensions from PBX automatically, there are no struggles associated with carrying out the process manually.

The NEON Developers team has developed this feature that allows customers to be automatically assigned Extensions and DIDs from PBX as subscriptions. 
5. Rerate SMS CDRs from SMS screen 
If you simply want to change the already uploaded SMS rate. Then all you need to do is to visit the new  "SMS Rerate feature" in the SMS section. There you will find all the instructional properties. These properties will guide you through rerating SMS CDRs from the SMS screen.
6. Option of Storing the Last 4 digits
With the use of this feature, your customer can very quickly and more conveniently reassure of which card is being used for payment submissions.

Simply, this feature will show an option of storing the last four digits of your customers, which they have selected to use against all your payments. The last four digits of your customer's card will be used as identification numbers. It helps your customers hold multiple cards to avoid any unpleasant experience which could result in unhappy customers.
About NEON
NEON is a highly trusted billing platform providing highly-efficient billing solutions. It has provided effective billing administrative techniques by assembling your business's crucial knowledge. Whether retail or wholesale VoIP, OTT and SMS, NEON has provided all these services with cutting-edge online and telecom technology.

NEON's team of developers has decade-long experience establishing a powerful platform that helps you accelerate your business by utilising highly efficient and up-to-date automated billing procedures.

Our customisable billing unit administration, high-performance API, user-friendly reporting, real-time statistics and other related enhancements and options can quickly be installed integrated, and ultimately allowing your business to reap the rewards from one course of solution.