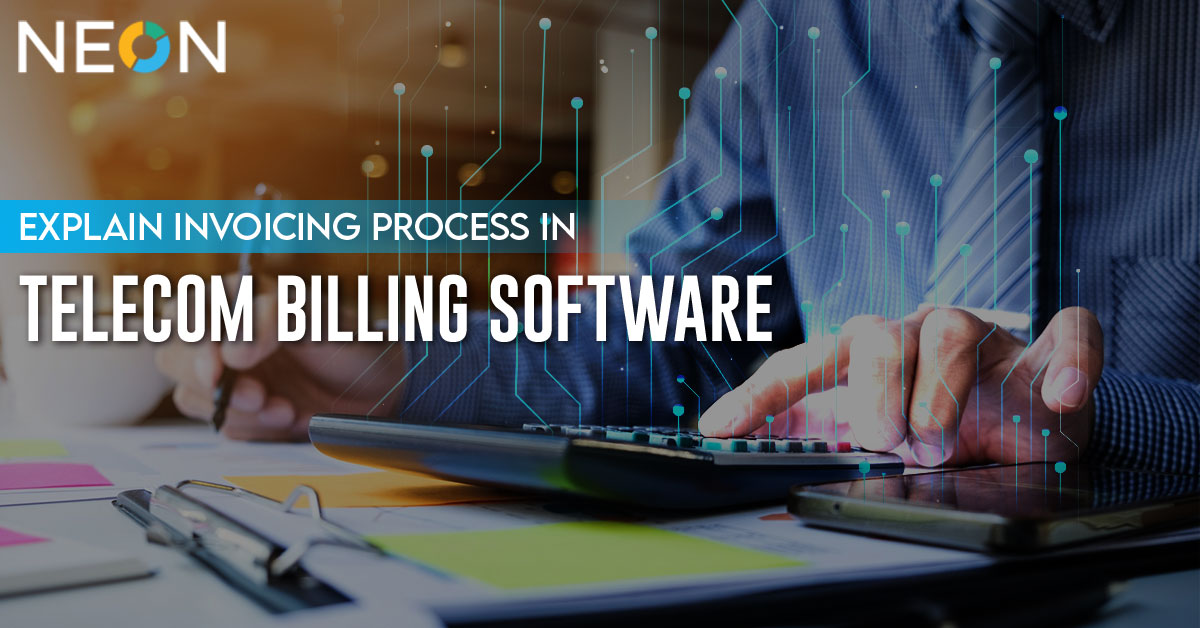 What is Invoicing Process in Telecom Billing Software? Briefly Explained
The invoice generating process is a common practice followed by most of the companies in the telecommunication sector. It helps in recording and collecting charges for various types of services rendered by the telecom company. Our telecom billing software - NEON - will help you to manage all your billing processes such as quoting, quotation approval, invoicing, payment collection and more.
Importance of Invoicing Process in Telecom Billing Software
The Invoicing process is very essential for the telecom business. It is a process in which the telecom company calculate charges from its customers. This invoice helps the communication provider to calculate the sales services. Invoicing is a process of converting invoices into statements that companies use to invoice customers. Telecom Billing Software can help you with the process of entering your invoice information into the system. It will also generate a statement and send it to your customer in the format they expect. With it, you can automate processes, increase efficiency and improve accuracy.
How Does Invoicing Process Work in NEON Telecom Billing Software?
The invoicing process in the NEON telecommunications billing system works very smoothly. In this telecom billing management software, you can manage both customers and vendors' invoices. The software imports data into it and then start the invoicing process. CDRs import engine will import all the call records.
After all the data has been collected, it will be processed. Once the data has been processed, the Rate Engine will determine the call rates. As soon as the rate process has been completed, the next step is to generate the invoice. Based on which billing cycle is set up against the customer, invoices will be generated automatically in this software.
Components of NEON's Invoicing Feature
Email bulk invoices.
Automate Invoice Reminders.
Automate invoice scheduling.
Verify invoices before sending.
Customer-specific billing cycles i.e. Weekly, Monthly, Quarterly etc.
View, Edit, Cancel, and Reconcile Invoices
With this telecom billing management software, one can easily view, edit, and cancel invoices. In the log section, you can view all transaction and payment details against an invoice and view any changes made to it. Moreover, you can reconcile vendor invoices by clicking on the button Reconcile when entering vendor invoices. If any differences exist, the button Reconcile will alert you.
Track Invoices Status
Another bonus of this telecom billing solution is the ease of tracking invoice statuses. There are various statuses including Draft, Awaiting Approval, Sent, Cancel, Paid, Partially Paid, and Post. Additionally, you can enhance the options by adding custom statuses based on your company's preferences.
Generate Invoices Automatically & Manually
Alternatively, you can generate an invoice by clicking on Generate Invoice, then clicking Automatically if invoices don't run automatically or you have created a new customer. Upon completing a job, the system will create all pending invoices. In contrast, if you want to manually generate customer invoices, you should choose the manual billing cycle option under Account. For the purpose of generating invoices, select Generate Invoice > Manually.
What is the Best Billing & Invoicing Solution For Telecommunication Industry?
Right now, there are various invoicing and billing systems for telecommunications are in the market. However, no one can compete with the outstanding features and benefits of NEON - an All-in-one telecom billing solution. We have hundreds of satisfied clients from all over the world who are happy to have such prestigious telecom billing software.
It has taken us many years to develop this solution to provide you with the means to monitor and analyze CDRs, which means you can devote your time to growing your business, rather than dealing with manual billing processes. Integration with your existing switching platform is easy with this telecommunications billing system. You can easily integrate it with MiRTA, VOS, PORTA ONE, SIPPY, VITAL PBX, Vodia, FreePBX, and much more.
Our team is friendly and available for assistance. Whenever you have a question, we'll be happy to help or show you an interactive demo.