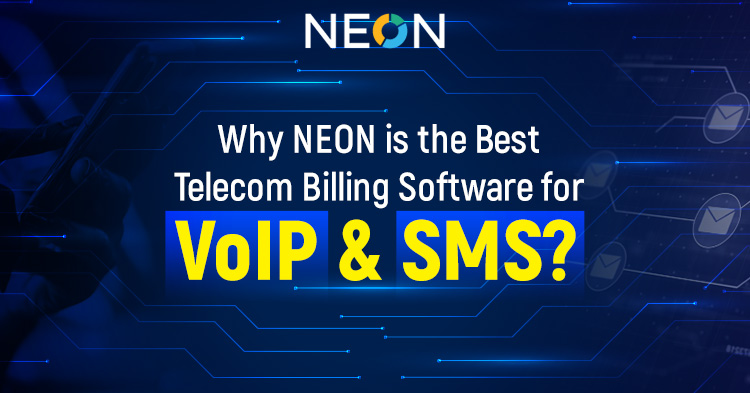 Heaps of businesses, both large and small, rely on telecom billing software to handle their wireless or landline accounts. Sometimes, this is handled in-house by the business itself, while other times they go through third-party service providers to do the work for them. 
Regardless of how you decide to manage your telecom bills, you must choose the best possible option when choosing your billing software to ensure you get everything you want out of it – especially if you want NEON Telecom Billing Software! 
Using telecom billing software can help streamline your VoIP and SMS billing process, but only if you choose the right one that caters to your specific needs. NEON is an easy-to-use and versatile telecom billing software solution that has all the necessary functions to make dealing with telecom billing simple, convenient, and effective. 
Here's why it's the best solution for VoIP and SMS support.
Understand What is VoIP Billing Software?
VoIP Billing Software is a software application designed to monitor, analyze, process, and report VoIP usage. It can also be used to manage billing practices for these services. 
In today's world of rapidly evolving telecommunications technologies such as Voice over Internet Protocol (VoIP) and Short Message Service (SMS), it is important to find VoIP billing software that will be able to adapt to your changing needs. That is why Code Desk developed a new telecom billing software for VoIP and SMS called NEON. 
With this new VoIP billing software, you get an easy-to-use interface, which makes managing all of your telecom costs much easier than ever before. You'll love how much more control you'll have over your telecom expenses because with this new VoIP billing software you get features like fraud management, centralized monitoring and rate generator. 
So what are you waiting for? Give NEON a try today!
5 Reasons Why NEON is Best Telecom Billing Software for VoIP and SMS?
NEON is a telecom billing software that is specifically designed to streamline all aspects of telecom billing, which can be a daunting task. It's particularly effective when it comes to managing multiple carriers, as well as doing advanced reporting and analysis. 
Here are 5 reasons why NEON is the best telecom billing software for VoIP and SMS providers
1) NEON Offers Many Features
NEON is a complete telecom billing software for VoIP and SMS that's not only easy to use but has many features that make it worth investing in. From quick integration to deal management, you'll have everything you need to manage your telecom billing needs. 
Here are some NEON Features.
Toll-Free Number Billing
Origin-Based Rating
Estimates
Fraud Management
Usage Based Billing
Pre-Paid Vs Post-Paid
Centralized Monitoring
Rate Generator
LCR Lists
Customer Rate Management
Vendor Rate Management
Rate Sheet Processing
Plus, there's no hidden fees or contracts so you'll know exactly what your monthly bill will be from day one. NEON offers more than just telecom billing software for VoIP and SMS: you can also integrate other aspects of your business CRM and financial systems with our easy-to-use API. 
So whether you're looking for telecom billing software for VoIP and SMS or a solution that does more than just telecom, NEON is the perfect fit.
2) NEON Is Easy To Use
NEON is a renowned telecom billing solution that makes it easy to manage voice and text messages. Using its intuitive drag-and-drop interface, you can create invoices in minutes. With its ticket management system, customers can easily generate tickets if they are facing any issue. 
With NEON's tracking system, you will never miss an important detail again! Track every call and message activity so you know when you need to remind customers about their bill or send them overdue notices. Keep accurate records of all transactions so your telecom billing solution for VoIP and SMS has all the information it needs to make sure nothing falls through the cracks.
3) NEON Is Very Affordable
NEON is a complete telecom billing software for VOIP and SMS. It offers affordable monthly, quarterly and annual subscription prices, with minimum set-up costs. Setting up the NEON server takes 48 to 72 hours, and integrating it depends on requirements.
Our team of experts can help you start your service with clear guidance. You'll also get access to our easy-to-use interface that offers features like unlimited reports, automatic invoicing tools, and more! With NEON, you're getting the best telecom billing software for VoIP and SMS at an unbeatable price. 
4) NEON Integrates With Other Software
NEON is a telecom billing software that integrates with other third-party software to give you the maximum flexibility in handling your telecom billing. It's flexible enough to work with any carrier or provider, and it can be customized to fit your needs. 
With NEON, you'll never have to worry about missing out on a detail of your telecom data again. The software has tools to help make telecom management easier. The reporting system will let you know if something is not going as planned so you can adjust before too much damage is done. NEON's telecom billing software for VoIP and SMS has got you covered in every matter!
5) Automated SMS Billing Solution
NEON is a complete Telecom billing system for VoIP and SMS, which can help telecom providers automate their billing process. By bringing all data into NEON, you can generate a single multi-services invoice based on the EDRS collected from Gateways, i.e. Alaris. You can easily analyze client and vendor usage from a single interface.
All of these features make NEON the best Telecom billing software for VoIP and SMS available on the market. If you are looking to simplify your telecom bill management process, then look no further than NEON. It is a full-featured VoIP and SMS billing software package for the telecom industry.
Conclusion - Choose NEON As Your Top Billing Solution For SMS & VoIP
As a leading Telecom billing software for VoIP and SMS, NEON has always been dedicated to providing exceptional service. Along with its high-quality features, it also offers a 24x7x365 customer support system.
Therefore, if you are looking for a solution that can provide an efficient business management system, then we would recommend you choose NEON as your top billing solution! Contact us now to get a Free DEMO of our system.