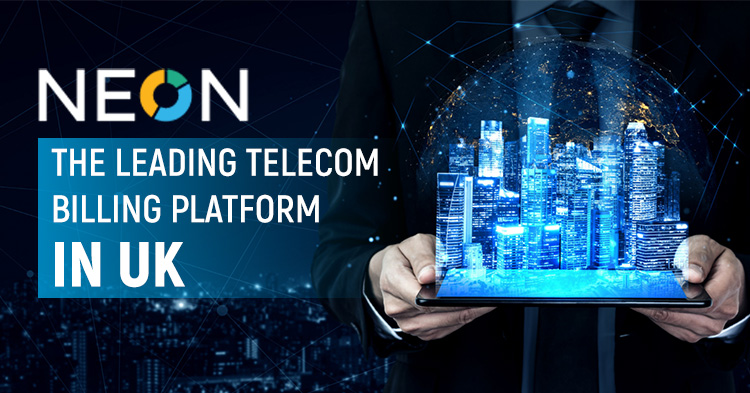 Are you a telecom business owner in the UK or anywhere in the world?
Are you looking for the Best Telecom Billing Platform in the UK? If yes, then look no further than NEON! 
NEON is the premier telecom billing platform designed to simplify the process of billing and customer management for any telecom business. 
With its easy-to-use interface and powerful features, NEON allows you to streamline your telecom billing processes and get the most out of your telecom business. 
Get NEON now and start experiencing the benefits of the best telecom billing platform in the UK!
What is Telecom Billing Platform?
A Telecom Billing Platform, also known as Telco Billing Software, is a set of tools and technologies used to handle customer billing in the telecom industry. 
It enables telecoms businesses to streamline the billing process, automate payments and provide customers with an improved experience. 
Telecoms Billing Platform UK is designed to be an all-in-one solution that handles complex customer billing models, such as recurring subscriptions, pre-paid and post-paid services. 
By leveraging automation and advanced features such as customer analytics, telecom companies can better manage their finances and operations. 
NEON is the Best Telecom Billing Platform in UK, offering comprehensive tools for billing and customer service, allowing you to build loyalty and increase customer satisfaction. 
With NEON's robust telecom billing system, you can easily scale your business and grow your profits. 
Know More About NEON


NEON is the leading Telecoms Billing Platform in UK, providing a robust and reliable telco billing software solution to meet the needs of your telecom business. 
Our top-notch telecom billing system is designed to make billing more efficient and user-friendly for your customers, allowing them to manage their accounts with ease. 
We are proud to be considered the Best Telecom Billing Platform in UK and are dedicated to providing the highest quality service and support. With NEON, you can be sure that your telecom billing needs are taken care of. 
Get it now and experience the difference!
Benefits Of Using NEON As Your Preferred Telecom Billing Platform
Are you looking for a way to streamline your telecoms billing process? 
NEON is the Best Telecom Billing Platform in UK and can help you reduce operational costs while increasing efficiency. 
With NEON, you get powerful and intuitive telco billing software that is designed to simplify and optimize the billing process. 
Here are 5 key benefits of using NEON as your telecom billing system: 
1. Streamlined Billing Process: 
Our telecom billing platform allows you to generate bills quickly and accurately. It automates many billing-related tasks and helps you stay organized. This makes the entire billing process smoother and more efficient. 
2. Improved Data Security: 
NEON comes with advanced security features that protect your customer data from potential threats. With its built-in encryption technology, it ensures that all your customer data remains safe and secure at all times.      
3. Flexible Deployment Options: 
With NEON, you can deploy the software on the premises or choose to access it in the cloud. This gives you the flexibility to choose the best option for your needs and make sure that your customers are always getting the best possible service.
4. Real-Time Insights: 
NEON offers real-time insights into your customer's usage patterns and billing processes. So you can make better decisions about pricing, discounts and other strategies.
5. Scalability: 
NEON is designed to be easily scalable and can grow with your business. As your telecom business grows, you can easily add new customers without needing to worry about increased complexity or high costs. 
NEON is the top telecom billing platform in UK that can help you manage your telecom billing processes more effectively and efficiently. 
Get NEON now and take your telecom business to the next level!
Why NEON Is The Best Telecom Billing Platform In UK?
NEON is the best telco billing software that can help your telecom business get the most out of its operations. 
It is the most comprehensive and reliable telecom billing system available in the UK. It is designed to be simple and intuitive while being extremely powerful and customizable. 
NEON is the perfect solution for any telecom business. It can handle everything from data entry to invoicing, making it one of the most reliable telecom billing systems in the UK. 
The software can also provide insights into usage trends, customer behaviour, and cost analysis, which helps businesses better understand their customer base and make better-informed decisions. 
NEON also offers integration with a range of third-party applications, such as CRM systems, allowing businesses to streamline their telecom billing process and reduce costs. 
Overall, NEON is the Best Telecom Billing Platform in UK, offering a comprehensive suite of features that enable businesses to maximize their operations and maximize their profits. 
With NEON's cutting-edge software, businesses can gain insight into their customer base and make smarter decisions, helping them succeed in today's competitive market. 
Get it now and start optimizing your telecom business today!
How To Get Started With NEON?
Getting started with NEON is easy! 
All you need to do is send us an email and we'll give you a DEMO. 
After the demo, you can decide if you want to purchase a subscription. The server setup takes 48 to 72 hours, while integration depends on your requirements. 
At NEON, we believe in providing the best telecoms billing platform in the UK. Our telco billing software is reliable, secure, and cost-effective – making it the ideal choice for your business. 
Get started with NEON today and experience the future of telecom billing!