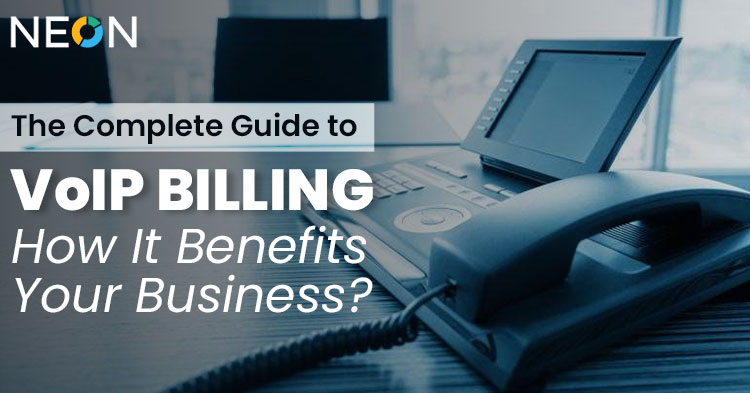 VoIP billing can be a major boon to your business, but it's important to understand the ins and outs of the process before jumping in. This comprehensive guide will teach you everything you need to know about VoIP billing. Make sure your business is on a solid footing by choosing our VOIP billing solution (NEON) today!
What is VoIP Billing?
The abbreviation VoIP stands for Voice over Internet Protocol. VoIP is becoming more and more common in modern business practices because it allows businesses to take advantage of cutting-edge technology in order to better serve their customers. 
VoIP billing is a system that allows telecom providers to bill their customers for the usage of voice services over the phone. By understanding VoIP billing, you can choose a billing solution that is tailored specifically to your business needs.
Many businesses use a VoIP billing solution, which is essentially a way for them to organize their finances and make bill paying simpler for themselves. A VoIP provider is an organization that offers its services as a means of helping companies with their telecommunication needs.
Benefits of VoIP Billing For Businesses
In addition to providing you with a variety of solutions for contacting clients, a good VoIP provider can also help you manage your VoIP services. This includes offering tools that help make it easier for your company's employees or customers. 
Here are some of their benefits:
Control Your Phone Calls: A VoIP billing solution is an excellent way to keep track of all of your phone calls, whether they're incoming or outgoing. You'll be able to control how much each call costs, which will allow you to stay within your budget. 
Track Employee Use: If you have multiple employees who use phones in your office, then a VoIP billing solution can be extremely helpful. You'll be able to see how much time each employee spends on calls as well as what types of calls they place most often. 
This information can help you better allocate resources in your business and improve productivity overall.
Save Money: One of the biggest benefits of using a VoIP billing solution is that it helps you save money. Not only do these programs help you monitor calls and limit spending, but they also give you access to special deals from your service provider. 
These deals can reduce your monthly bills by hundreds of dollars per month!
Create Reports: Many VoIP billing solution providers offer reports so that you can view important information about your business. For example, you might want to create a report that shows your total expenses over a certain period of time. 
Or maybe you want to find out how many minutes were used during peak hours versus off-peak hours. No matter what type of report you need, there's probably one available through your VoIP billing solution.
Transfer Records: Another benefit of VoIP billing software is that you can transfer records if you ever decide to switch carriers. Instead of having to start from scratch, transferring records means that you won't lose any data when switching between companies.
Manage Multiple Numbers: If your business has multiple locations, then managing them all can be difficult without assistance. Thankfully, a VoIP billing solution allows businesses to manage multiple numbers from one location—which makes life much easier for managers and owners alike. 
With so many advantages associated with using a VoIP billing solution, it's no wonder why more and more businesses are turning to these services every day.
VoIP Billing for Small Businesses with 2 Options to Choose From
There are two ways that small businesses can use a VoIP billing solution. They can either opt for an all-inclusive plan, or they can choose to pay for their own services separately. Each option has its pros and cons, so it's important to consider which one is best for your business before making a decision.
If you decide to go with an all-inclusive plan, you won't have any bills to deal with because everything will be taken care of by your provider. 
However, if you decide to do things on your own and purchase individual services from different providers, you might end up saving money in some areas but spending more in others. Ultimately, what matters most is choosing a solution that will help grow your business without costing too much money upfront.
A Step-by-Step Guide to Getting Started with VoIP Billing
In order to set up billing for your new business, you'll need to understand what your options are and how they can be used. While there are several types of billing solutions available, in order to stay competitive in today's market, you will want a VoIP provider who specializes in cloud-based solutions. 
A good VoIP billing provider will offer services like customer satisfaction surveys, call reporting, detailed customer reports, auto-billing reminders, credit card processing capabilities and more. When it comes to choosing a VoIP solution provider, it is important that you find one that is reliable and has been around for at least five years. 
You don't want to risk having an unreliable service that could cause problems with your company image or negatively impact your bottom line. Once you have found a VoIP software provider that meets all of your needs, it is time to get started on setting up billing for your new business. 
To get started, take these steps: 
1) Sign Up for a New Account - If you already have an account with your VoIP service provider, skip ahead to step. If not, go ahead and create an account by filling out any necessary forms (such as name, address, and contact information). 
2) Choose Billing Method - After creating your account, choose which method of billing you would like to use. There are two main methods of billing: Recurring Billing – With recurring billing, customers pay a fixed amount each month until they cancel their service. 
This type of billing is ideal if you know that most customers will continue using your services throughout their contract period. Pay As You Go – With pay as you go, customers only pay for usage each month. 
For example, if a customer uses 300 minutes during one month but only 100 minutes during another month, he/she would only be charged $100 for that particular month. 
3) Set Up Invoices - Before you can start sending invoices to your customers, you will need to provide them with an invoice template. Most VoIP billing providers allow you to customize your invoice template however you see fit so that it matches your brand identity. 
4) Start Sending Invoices - The next step is sending invoices! Now that you have created an invoice template, it is time to send your first invoice.
5) Track Payments - Now that you have sent your first invoice, it is time to track payments from customers. Depending on how your VoIP provider handles payments, you may receive notifications when payments are made or you may need to log into your account regularly in order to check payment status. 
6) Follow Up with Customers - In addition to tracking payments, you should also follow up with customers after they make their initial payment. A great way to do this is through customer satisfaction surveys. These surveys help ensure that your customers are happy with your services and will encourage them to continue paying on time. 
7) Collect Late Payments - If a customer does not pay his/her bill on time, you should follow up immediately via phone or email before issuing late fees. 
8) Issue Late Fees - If a customer still fails to pay, you should issue late fees. 
9) Send Final Invoice - Finally, once a customer has paid off his/her final invoice, you should send him/her a final invoice and then close out your account.
Choose Renowned VoIP Billing Solution - NEON
VoIP billing is one of the most important aspects of telecom management, and it's important to have a professional solution in place to ensure your business runs smoothly. By understanding how it works, and selecting the right VoIP billing solution for your business, you can ensure that your telecom expenses are managed in an efficient and reliable way.
NEON Soft - the renowned VoIP billing solution can also be integrated with your existing platforms including MIRTA, VOS, PORTA ONE, SIPPY, VoIP.ms, Vodia, FreePBX, STREAMCO, Connex, FUSION PBX, VITAL PBX, and much more. Our integrations are constantly evolving so you'll be able to connect with any platform you prefer.
The core components of this software include Billing, Support Ticket Management Software, Rate Management, CRM, Reporting & Monitoring, SMS Billing, Various integrations, Account Management etc. to make your management tasks more efficient.
Make sure your business is on a solid footing by choosing our VoIP billing solution NEON for your telecom company. With error-free billing and usage reporting, you'll know exactly what your business can expect from our solution. Learn more about our dynamic systems by contacting us today. We'll be happy to discuss all of your options!