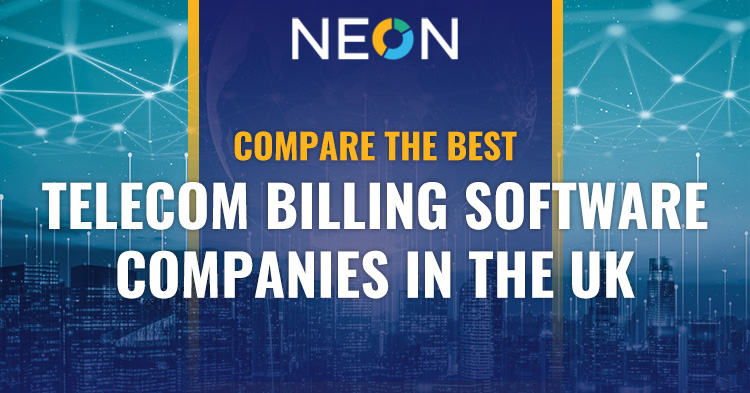 Whether you're an established telecom or are just starting out, it's important to have the right telecom billing software in UK to get your business off the ground and keep it running smoothly over time. With so many different providers in the market, though, it can be hard to figure out where to turn. The choice that you make will have an impact on your business going forward. So it's important that you don't rush through this process and end up choosing the wrong provider. 
We've compared some of the top options available today to find 5 of the best that are ready to meet your growing needs now and in the future. Take a look at this list and you'll be able to find the one that gives you everything you need with no unexpected surprises along the way. Each of these companies has different pricing models. Therefore it's important to research each of their packages in detail before making your decision. 
What Is Telecom Billing Software?
Telecom billing software is used by telecom companies to generate bills for their customers based on calls, texts and data. You would need a reliable telco billing system if you're starting a telecom business or own one already. However, it's important to know what features your ideal telecom billing software should have before making any decisions. 
For example, you may want an easy-to-use interface with several reports that can be customized according to your needs. The best way to find out which company offers all of these features is by reading reviews online. However, it can be difficult to sift through all of them so we've done some of that work for you! In our review below, we'll cover five of the top telecom billing software providers in Europe and all over the world. We hope you enjoy our comparison!
How to Pick the Top Telecom Billing Software for Your Business?
The telecom industry is one of the most competitive industries in the world with hundreds of different companies battling it out for the top spot. It's more than just about having the best technology; it's about building relationships and offering some of the best customer support out there. 
If you want to make sure that your business stays on top, picking a top billing software can be an incredibly helpful tool in marketing and managing your company effectively. Here are some things to keep in mind when choosing the best billing software for your telecom business.
Know What You Are Looking For In A Billing Management System
The first step in evaluating telecom billing systems is to understand what you are looking for. To get a proper perspective on what is out there, it will be helpful to start with an honest assessment of your current system and its limitations.
Understand Your Business Needs
Before you start shopping, it's important to understand exactly what your company needs in the billing system. While there are plenty of terrific options out there, each with its own distinct strengths and weaknesses, you should make sure they check off all of your business-specific boxes.
Explore The Market
Before you buy a billing product, it's a good idea to do some research. Search online for reviews of telecom billing software in UK and look into what other businesses have used. Ask your friends, or call business organizations in your area. Once you've gathered some information on which products are well-liked, narrow down your options by looking at features and prices.
Get Help From Experts
If you're not much familiar with UK telecom billing software, it may be a good idea to hire a consultant or other expert who is someone with industry experience. He/she will be able to point out any issues that might have otherwise gone unnoticed. 
While these platforms are intuitive, there are a lot of moving parts that can affect your business's bottom line. An expert will help make sure you get everything set up in an efficient manner and help iron out any kinks that occur along the way.
Write Down Your Requirements Before Shortlisting Vendors
When you're shopping for telecom billing software, you must take your time and make a checklist of what your business needs from its billing solution. You should list out everything from whether or not you need a hosted or on-premises solution to what specific features or integrations are required. The more thorough and detail-oriented your requirements are, the easier it will be for vendors to match up with them.
Remember: cheap is not always better. Save yourself time and money by choosing quality products with longevity.
The Top 5 Telecom Billing Software Companies in the UK
Telecom billing is one of those tasks that can easily become a hassle. That's why it's important to have a good telecommunication billing software company on your side. If you're looking for a comprehensive solution that will make your life easier, check out the top 5 telecom billing software companies in the UK. These companies have years of experience helping businesses manage their telecom bills and payments, so you can be sure that everything will be taken care of from start to finish.
1) NEON Soft - Complete Telecom Process Management Solution
NEON Soft is the Best Telecom Billing Software in UK that allows communication service providers to capture and analyze detailed data on phone calls, text messages, Internet use and other traffic. The NEON telecom software is one of the most powerful systems on the market today. The unique blend of speed, ease of use and flexibility make it a perfect fit for both larger enterprises and small to medium-sized businesses. 
NEON has excellent customer service, which makes it stand out in an industry not known for excellent customer service. This company provides free online training for new clients and allows customers to use NEON billing services. NEON is not only the best Telecom Billing Software in UK, but it is a complete telecom process management solution. 
The core components of NEON include: 
Billing
CRM
Rate Management
Reporting & Monitoring
Various integrations
Account Management
These NEON's unique components can make your management tasks more efficient.
The unique feature that makes this top billing software unique from other billing software companies is its easy and fast integration. One can easily integrate it with its existing platforms. Whether you are looking to manage all aspects of your business or just specific processes, NEON has a plan for you. With customizable options and user-friendly features, there is no better time than now to get started with NEON.
2) UNION STREET - aBILLity
Union Street is an established telecom billing company since 1998. Its key selling point is that it has no up-front costs for its services. This means that you don't have to make an expensive investment in a software platform before you even launch your business. The company will also give you personal training on how to use its billing software so that you can learn how to best utilize its features. 
Additionally, Union Street offers 24/7 support through email and phone calls. You can get answers from customer service representatives within one business day. When you sign up with Union Street, you receive a Demo of its billing software for telecom companies - aBILLity. The company takes all major credit cards and PayPal payments.
3) TimelyBill
Billing software from TimelyBill integrates seamlessly into communications service providers' back-office operations. As a subscription-based service provider, TimelyBill helps companies increase profitability. It's a great choice if you want to be flexible and save money on initial and ongoing costs. 
TimelyBill also has excellent customer service, making it a standout in an industry not known for stellar service. The company provides free online training for new clients and allows customers to try out its services for a month. This gives you time to get used to its system and decide whether it's right for your business. Besides offering competitive flat rates, TimelyBill also offers revenue-based pricing.
4) JERASOFT
Jerasoft is an intuitive, award-winning, powerful and affordable telecom billing system. A simple and easy-to-use solution for small to medium-sized telecommunication companies. Jerasoft provides a number of advanced features at a great price point. The JeraSoft team provides communication providers with high-end billing, rating, routing, and mediation solutions. 
It comes with a comprehensive list of standard reports that can be customized by users based on their needs. It has been designed keeping ease of use in mind which makes it easier for users to handle complex tasks without any prior knowledge or experience. The most important feature of this telco billing system is its ability to easily integrate with other applications like CRM, accounting packages etc. You can get real-time information about various aspects of business operations through this telecom billing software in UK.
5) Onebill
Onebill is an all-in-one telecom billing software that allows you to seamlessly handle your customers' bills. It can be integrated with most major applications, so you can access real-time data to accurately track usage. In addition to launching and monetizing your products and services, OneBill automates your entire billing & revenue operations, helps you expand into new markets, grow and retain customers, and enables revenue growth and scaling of your business.
In addition to its wide range of features, Onebill is easy to install, it takes just minutes to get up and running on your own website or one hosted by onebill. The best telecom billing system can easily automate billing cycles and end-to-end operations. In the current market, only Onebill is capable of managing channel partners in the N-tier hierarchy and settling commissions in real-time.
Choose NEON - The Best Billing Software in Telecommunication Industry
NEON is a top-rated and highly recommended billing software for telecom companies. NEON offers many of its billing services without any interruption, making them affordable for any size of business. With many years of experience in handling telecom billing, we are experts at what we do and you can rely on us to take care of your business no matter how big or small. 
This software solution is a great option for any business looking for simple yet effective options. Telecom companies can connect with their customers and solve issues in seconds using NEON's support ticket management system. In such an efficient manner, you won't have to wait days for your problem to be resolved. 
To automatically update your price lists, you can set up your rules and schedule your rate generator through this best telecom billing software in UK. In addition to providing excellent customer service, NEON also has an easy-to-use interface that allows you to input data without hassle. It's easy to set up and easy to use - just choose it & use it!