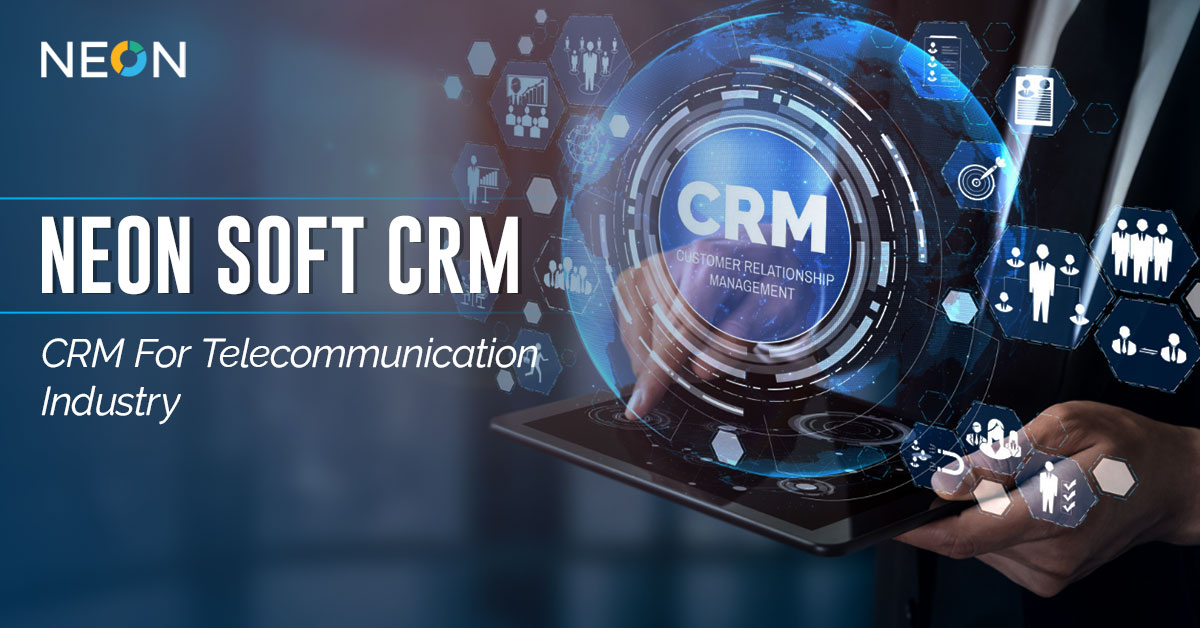 Customer Relationship Management (CRM) is becoming a powerful tool for the companies like Telecoms. The advancements in this sector allow all kinds of data to be transmitted globally and empower people across the nation with seamless connectivity. Telecommunications has enabled businesses, governments, and communities to connect seamlessly with information shared globally by enabling all kinds of data in words voice audio, or video to be transmitted across telecom networks on demand- no matter where you are located!
NEON CRM for Telecoms is a revolutionary system that unites customer service representatives with their customers on every level of engagement. The features like Tasks, Emails, Leads, and Reminders keep track of all sales activities in order to make better use of data while enhancing the workflow time-to-market. Let's talk about some features of NEON CRM for telecom industry and the benefits it offers telecom companies. 
What Does CRM Mean?
CRM is also known as customer relationship management - a tool that helps you to keep track of all of your company's relationships and interactions with customers. A customer relationship management system (CRM) supports businesses in staying in touch with customers, optimizing procedures, and maximizing profits. It gives you access to all of the information needed in one place. It shows your previous interactions with clients, their current order status, and any customer support issues they may have left; it's easy for everyone!
What is the Concept of CRM in Telecom Industry?
The importance of customer connection in the telecom industry cannot be overstated. Telecommunications is a highly competitive business, and established companies are trying to maintain a significant share of the market at a time when new competitors are emerging, making the environment challenging for pioneering companies. CRM in telecom industry can predict a firm's future based on historical data and its performance in prior years. 
Which Features are Available in NEON's CRM?
CRM Dashboard
We have built an intuitive and comprehensive dashboard into NEON's CRM that allows companies to analyze and measure individual and team performance. There are many features available in telecoms CRM, including active tasks, a high-level pipeline overview for the entire team, monthly and weekly revenue statistics, forecasting, pipeline summary, recent accounts, and more. All of these features improve sales management and productivity for the entire company.
Tasks Board
In the NEON CRM, it's easy to quickly create and assign tasks for other users. You can also follow up with these assignments by simply dragging them from one stage of your funnel into another. With our new level automation system in CRM for telecom industry, you'll never have trouble keeping on top of things or increasing efficiency again. It gives a high level of automation to your business process.
Drag & Drop Opportunities 
In the NEON CRM, there's a simple and visual pipeline that makes it easy to organize your sales opportunities. You can easily move them up or down in order of how close they are until next week so you don't miss any. With NEON's revolutionary new features like this one - which also includes an efficient system for managing contacts within each stage- we're confident our software will improve not only current processes but discover new ways altogether as well.
Conclusion 
NEON CRM is a revolutionary feature that unites customer service representatives with their customers on every level of engagement. The features and benefits offered by the software will help telecom companies better serve their clients through more efficient tasks, clear visualizations, and an intuitive dashboard.