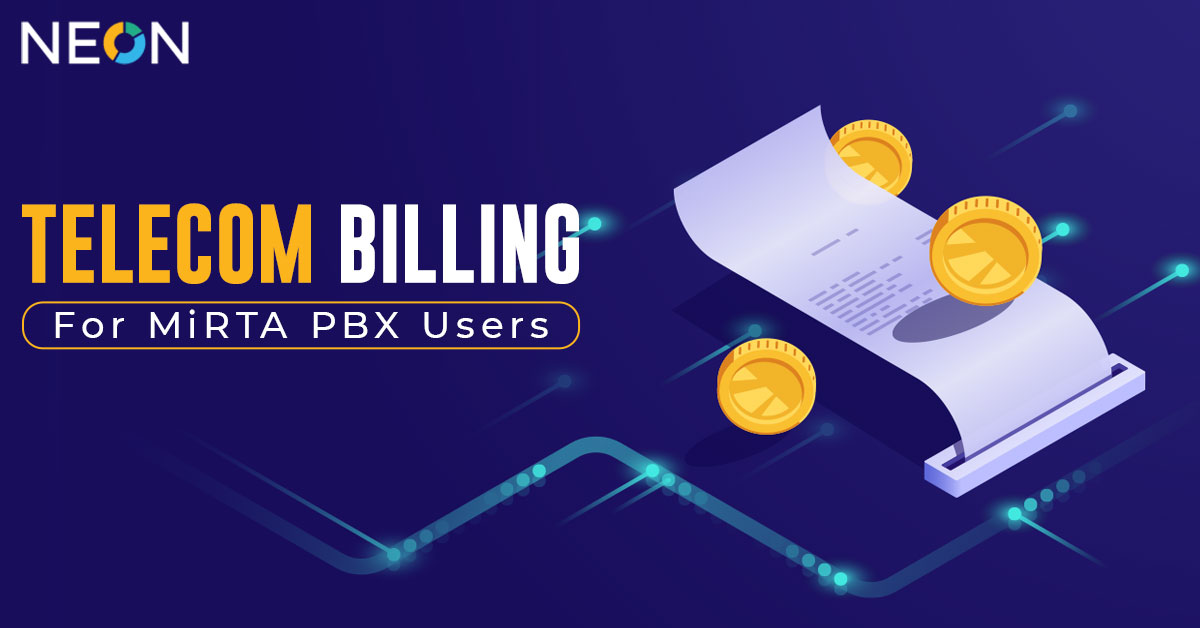 Now Billing for MiRTA Has Been Easy Now With NEON SOFT Integration Solution!
A system that integrates with one another and helps manage your business can significantly reduce your costs when running a business. Then you can utilize the latest software in a cost-effective manner for your company by digitizing your technology infrastructure in this way. In this scenario, NEON offers a Billing for MiRTA facility to its wide range of customers that is the durable, reliable and tried-and-true solution for MiRTA users.
Generally, using MiRTA PBX, a single Asterisk PBX can be managed alongside several others, maintaining multi-tenancy, load sharing, and high accessibility. Despite its simple interface, it has all the features you'd find on a professional PBX. In order to make the integration with existing CRM or billing software easy, all configurations are stored in a database. 
What Are Core Features of Integration With MiRTA 
When it comes to counting the features of this outstanding interface written in PHP and MySQL as the backend for managing multitenant PBX systems, the list is long. However, at this point, we'll mention some of the outstanding and long-lasting attributes of this interface that will convince you to adopt this solution for your business. 
Centralized Billing
Discount Plans
Toll-Free billing
Unlimited Rate Plans
Service-based billing
White Labelling
Centralized Monitoring
Estimates/Quotations
Fixed Line billing
CDR Rating/Re Rating
Multi-Currency support
Automatic Account Blocking
Centralized Rate Management 
Pre-paid or post-paid support
User and User roles management 
Multi-Level Taxes Management
Customer Portal for your clients 
Detailed reporting and Statistics
Origin-based-rating and A number billing
Subscription plans (Recurring and One-Off Charges)
Automated Low Balance and Payment Reminders
Email Notifications about Calls on blacklisted destinations, Calls after business hours, Expensive and Longest calls, etc.
After considering above mentioned features, you will surely want this solution for your business. With NEON SOFT billing for MiRTA facility, your business can stay in the know with original, innovative and easy to implement solutions that can be integrated with existing CRM and billing software.
Consider Billing for MiRTA Solution From Us At the Most Advantageous Price!
Customers these days prefer to pay electronically over writing checks due to the hassle of writing checks, and many of them feel frustrated when they writing checks. We'll provide you with an integrated billing and payments system that will enable you to take advantage of this growing market of customers that prefer PayPal, credit cards, and online banking. 
Our Complete Telecom Solution provides stable integration with MiRTA. It is a complete hosted platform helping and streamlining billing, charging, sales, and support and monitoring processes. Moreover, this outstanding feature provides detail analytical data which will help you to prevent fraud so you can better manage your customers and vendors. 
We Are Also Offering Integration with VOS3000 Services 
Generally, there is a Linux soft switch called VOS3000. Through software running on a computer, soft switches connect telephone lines to a telecommunications network or Internet. Typically, they connect phone lines to a telecommunications network or to the public Internet. 
Developers have designed Softswitch VOS3000 is designed for carrier grade applications. It also Package Management, integrates Rate Management, Gateway Management, Softswitch Management, Phone Management, System Management, IVR Management, User Management, Cards Management, Data Query and Web Self-Service Systems. Moreover, you can get billing for VOS facility from us as we have been doing this for various years. All VOS3000 users can rely on our tested and reliable solutions.
Consider Billing for Vos5000 Services from NEON
The VOS5000 belongs to Linknat Limited's line of professional solutions. It uses our own proprietary SIP and H.323 stacks, which are more powerful than most softswitches and SBCs. The product really does offer all services under one roof. VoIP wholesale operations require professional development. 
If you intend to grow in the long run and need at least 20,000 simultaneous calls, VOS5000 is the best option for your business. As opposed to an ordinary distributed system, this solution uses an advanced asynchronous messaging mechanism and a big data processing kernel. Adding more services to the system will enable seamless improvements in system performance and capacity.
You can ensure this system will function uninterrupted for your business by using our billing for the VOS5000 solution that we are offering at a cost-effective price. All VOS5000 users can rely on our tested and reliable solutions. Further, our reliable services can provide you with a huge amount of analytical data that can help detect and prevent cybercrime - and enhance your customer and vendor relationships.